Betws Community Choir
Photos thanks to Alison Mcgann of Valley and Vale Community Arts
The choir doing their "busking " set at the Cardiff Bay "Sing for Water Event May 2015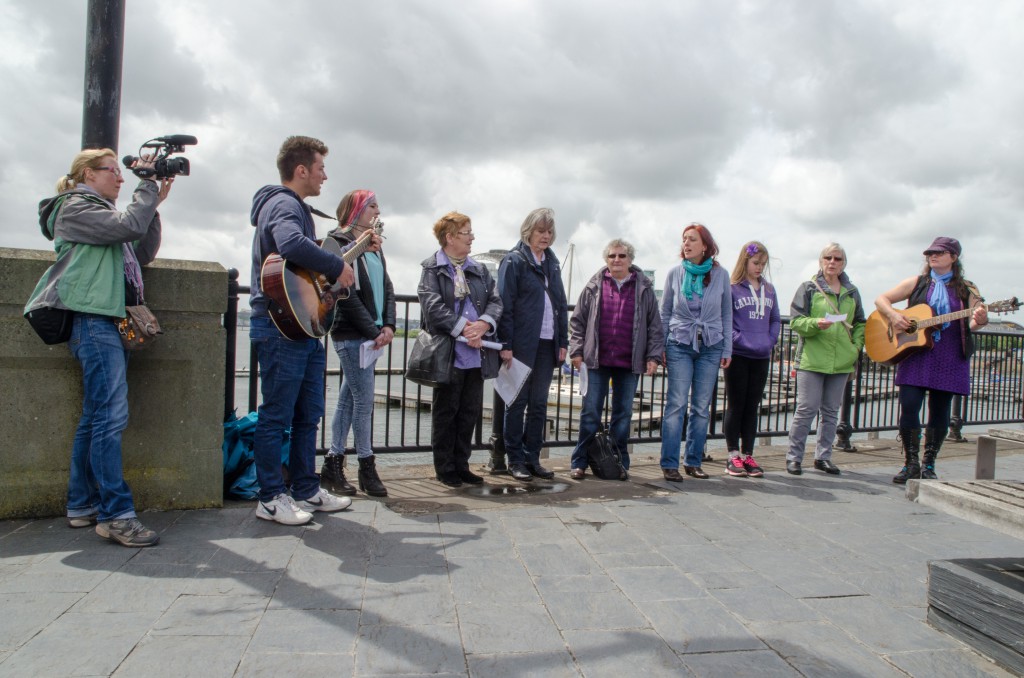 This choir is supported by Valley and Vale Community Arts http://www.valleyandvalecommunityarts.co.uk/ – as well as by the fundraising efforts of the choir themselves. It has been running for around 8 years now and is most unusual in that it has different generations and family members in it. It is always welcoming of new members from near or far and from whatever background or belief.
The choir have fun in their weekly Wednesday evening rehearsals and aim to perform quite regularly at various community venues and events throughout the year. In this sense we are very active and see it as a key role to involve whoever we perform to – and encourage them to sing with us. It is through this "Active Citizenship" that we performed at the Bridgend celebration of Gay Marriage rights and then we met Matt who then became a choir member and made this film for us
https://www.youtube.com/watch?v=44g7UbPKiTU&list=UU_wZQIYxkv3AB92S_FqrGyw
If you are interested in joining the choir or would like us to do a performance/ workshop at your event or community setting please contact laura.music@virgin.net or Valley and Vale Community arts direct via http://www.valleyandvalecommunityarts.co.uk/  or telephone 01656729246 for more info.
We usually meet at the Sardis – which is Valley and Vale's offices,  10 Wednesday evenings per term 6pm – 8pm. We have a tea break with a bit of chatting and maybe a biscuit or 2. The choir agreed that to help with the regular fundraising there would be a fee of £2 per adult per session and £1 per child. Any donations to help keep the choir going are most welcome!
The choir are keen to break down barriers between different communities and have recently performed with people from Glan Ogwr House and as a result 3 residents from Glan Ogwr House joined the choir. Very sadly Peter – one of the new choir members – passed away in August 2015 – We're very pleased that he was singing with us at the Sing for Water event and saw the event as a real highlight. A very sad loss to us!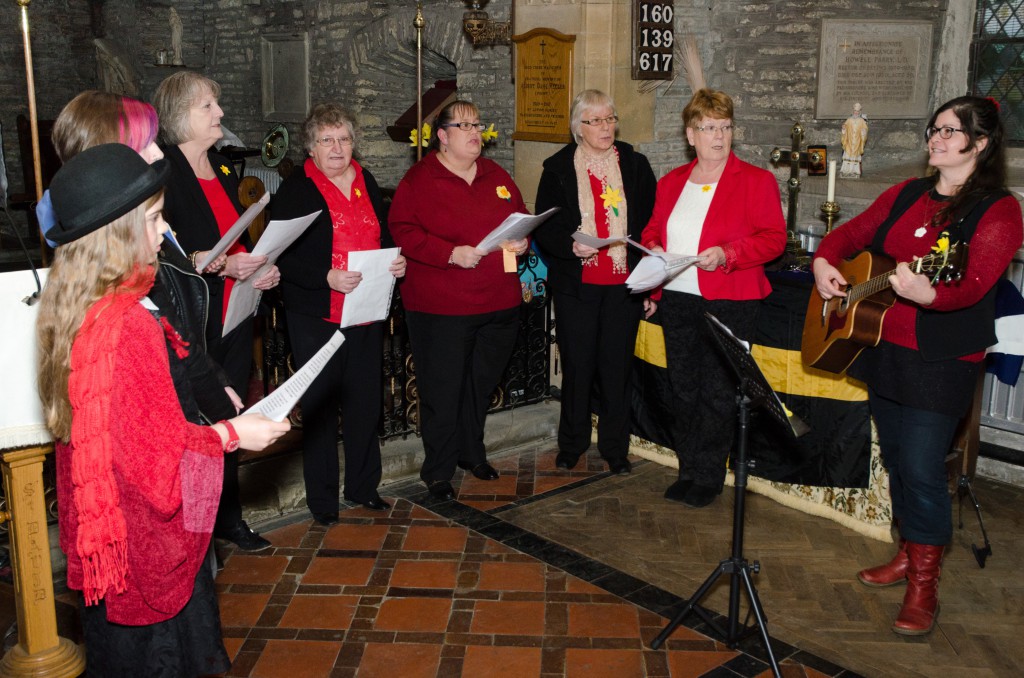 Here is a film (Made in 2009 by Tracy Pallant) linking the choir to the Gemini Choir of Ethiopia where at the start you here a lovely Amharic/ Ethiopian twist on our very own "Ar Lan Y Mor"
http://www.valleyandvalecommunityarts.co.uk/news-category/betws-community-choir-sings-walesethiopia-launch/
The choir singing at a massed concert in aid of Wateraid alongside 6 other choirs
https://www.youtube.com/watch?v=SnPSOvelThM
The choir took part in the first ever "Sing for Water Cardiff" May 2015 alongside 30 other choirs an event which raised over £36000  https://www.facebook.com/singforwatercardiff
Impressions of the Valley and Vale Community Choir:
I only came to Wales from Germany last year (2014) and participating in this choir has been such a wonderful, enriching experience. From my first meeting, I felt a warm welcome from everybody. This warmth was really important to me, especially in the first few weeks here; as it had often not been easy for me to really integrate into communities and groups, because of my limited language skills. But through singing I was able to relax and to really feel a part of this group – regardless of my language limitations. The choir became my small island – on the island of the U.K.! Now, choir is a permanent feature in my Welsh life and I feel like I am among friends.
Back in Germany, I always used to sing in several choirs. Here, for me the special thing about Laura`s choir is the atmosphere. There is a real sense of cooperation and very respectful treatment of everyone's contribution, regardless of their confidence or ability.  A crucial factor in this inclusive atmosphere is Laura's way of leading the choir. All participants are regarded as the sum of their strengths – regardless of musical ability, and we are all accompanied and encouraged with great appreciation and warmth.
And so, individual members overcome in this secure environment their own limits, gather new experiences and feel a real sense of achievement.
Our choir consists of people between around 10 and 80 years old and our song repertoire is as colourful: ranging through the whole world. English, Croatian, African, Welsh … I also bring in my own roots through a short German song to share with the group. To sing it together was a very touching for me.
Similarly moving and also impressive for me was the choir's participation in Cardiff's big "Sing for Water" event, run by Laura and three other brilliant singers and choir leaders. Approximately 700 choir members from all over Wales traveled to Cardiff and participated in an open air concert. The large square in front of the Welsh Millennium Centre came alive and sounded wonderful – and we were part of it. Probably none of us spent the day without getting goose bumps!
So we all bring our own strengths and characteristics to the community choir and share them with each other. We listen to each other, try together, share, stand together for something we all believe is important and, perhaps most importantly, we have fun – that's probably how community works, a wonderful multi-generational community.
For this great gift, this lovely experience, a very special thanks to Laura, the heart of this choir. (Anke Bareiß)