Cardiff Canton Singers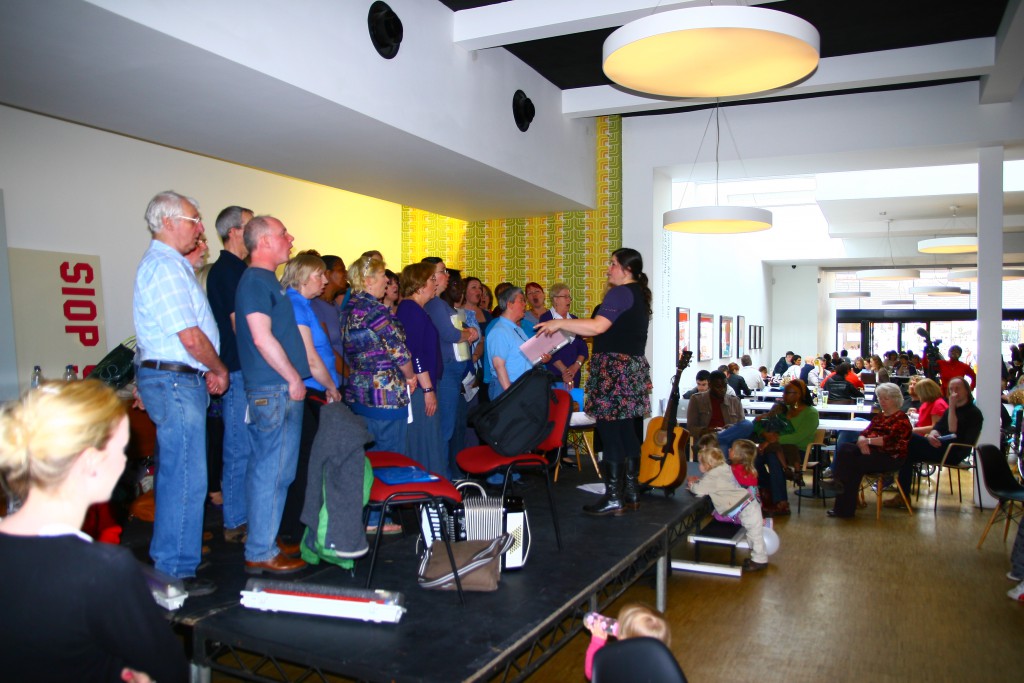 We meet Thursday evenings 7 – 9 in the church hall at the back of Canton Uniting church 222 Cowbridge Road East, Canton, Cardiff CF5 1 (Entrance via Theobold Road)
The group get together for 10 sessions a term at £60 full fee for working people or £40 concessions.
The Cardiff Canton Singers are a fabulous group of people who come together on Thursday evenings purely for the joy of singing in harmony. We have lots of fun during our sessions and the group has become a mini community in itself. 
The group love to perform and have done so at many different events throughout the past years including at the WMC Glanfa.
Many of the choir members also opted to be a part of the massed community choir who performed on the Senedd steps for the finale of National Theatre Wales production of De Gabay.
A production based on Somali poetry from the Somali community of Bute town. The theme music words are by Ahmed Yusuf and the music by Dan Lawrence. Heard here in a recording made by Dan after the show. Degabay + choir singing
They have participated in the London Sing for Water annually since 2010 and participated in the first ever Cardiff Sing for Water in May 2015
The usual year comprises of the usual sessions on Thursday evenings – busking sessions to raise funds for various charities – the annual carol singing pub crawl – raising funds through our tea break for a different charity suggested by the group each term. About half the group have also been participating for the past 6 years in the London "Sing for Water"
The choir (including some of the Chapter Singers) performing their "Marasong" set as part of Sing for Water London.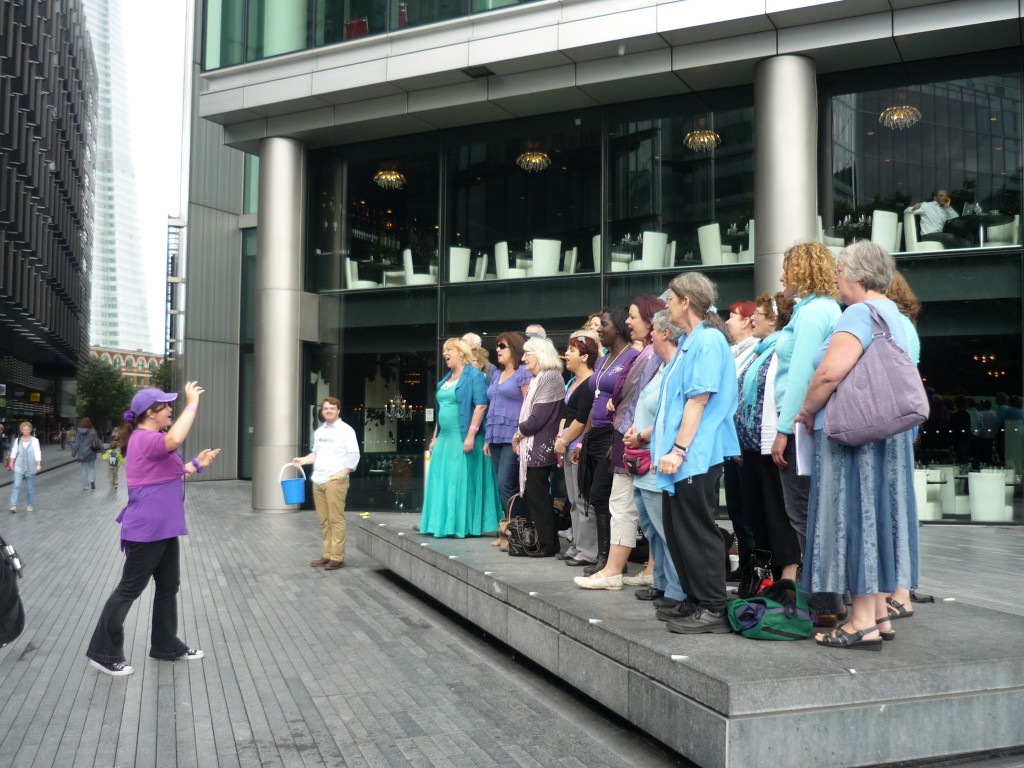 The group have recently performed at  2 concerts. One in aid of refugee centres in Cardiff (Organised by Frankie Armstrong) as well as a concert in aid of the refugee council of Wales and "Freedom from Torture" in Newport (organised by Sarah Harman).
https://www.facebook.com/singforwatercardiff
www.wmc.org.uk/connected (Scroll down to find Cardiff Canton Singers)
Testimonials from the choir……
"Laura is an amazing choir leader who makes everyone feel welcome. She is always encouraging us to step out of our comfort zones to sing more freely and openly. Our concerts and gigs are always the occasion to fundraise for a charity (generally chosen by choir members), so singing with Laura makes you feel good for more than one reason!"
Marion H
"I met Laura at a Saturday singing workshop in Canton Cardiff which I thoroughly enjoyed, and I  was delighted to have the chance join her choir. The memory of that first evening when I went along will stay with me forever. I found it just so easy to follow her teaching and therefore to feel, although a novice, a real part of her wonderful choir. I sang my heart out. Singing is so uplifting and has helped heal  the pain and suffering that I have experienced  in the past few years. A major turning point in my life. I cannot recommend it highly enough"
Ann
"Laura has a wonderful way of making everyone in the choir feel valued and that everyone can sing! This vibrant, inclusive community choir brings joy and a sense of well being to everyone involved with it. It certainly makes me feel happy. Even after a tough day at work, when I am completely shattered, Laura manages to boost me up with her warmth and enthusiasm."
Ruth
'Singing in Cardiff Canton Singers, led by Laura, is always fun, full of laughter and the occasional satisfying bit of 'hard work'.  But, more than that, I believe Laura's great talent is in helping to nurture a warm, positive and vibrant atmosphere in which every person clearly knows they are welcome, and that every person feels fully a part of…. The pleasure of singing is definitely in the singing together in Laura's classes…'
Corinna
"Laura's classes are inclusive, so a group for everyone… Not just singers only. The warmth and new friends you make in class makes it a bonus. The group is always up for getting involved in fundraising and performances. Which is great fun. If you are nervous.. Don't be….we sing in large section so you never do it alone! When I'm singing in a piece that I love it gives me such a buzz with the amazing music created. I m really glad I joined.. Shame I didn't join sooner."
Yin
"Joining Cardiff Canton Singers has been a wonderful experience and I am only sorry I did not have the courage to begin sooner! I have discovered a love of singing I really did not believe I was capable of and as a bonus have many new friends too. Laura's style of teaching and her approach to people means they feel at ease and gain confidence very quickly. As an activity which benefits your health, wellbeing and social life singing is hard to beat but with Laura's community based choir you also get to meet new people, learn a diverse range of songs and raise money for good causes."
Lesley B
"Besides her excellent teaching, warm heartedness and interpersonal skills, joining Laura's singing groups is in many ways life changing. The fact that ordinary people with ordinary voices can gain the skill and confidence, under her leadership to produce such wonderful performances. Joining the choir also has a social aspect in that I have met a whole new group of friends and the enjoyment of meeting with these friends and putting on public performances. It is all just a very nice experience."
Viv
"A sense of community belonging through voice, plus satisfies the soul!"
Judie
As a child, I had always enjoyed singing. As an adult, however, I didn't feel I was good enough to be part of a 'proper' choir. When I was given the opportunity (through work) to sing with the Canton Community Choir, I was initially quite nervous. As soon as I attended my first session though, I realised just how much I had missed singing. Laura's teaching style is relaxed, encouraging and positive. The choir provides a nurturing, supportive environment where everyone is welcome. Since joining the choir, I have definitely stepped out of my comfort zone, but I have never been pressured into doing something I am not comfortable with. Coming to choir gives me a chance to sing for the pure pleasure of it. I have met lots of wonderful people, and been a part of some brilliant events. If you are thinking of joining one of Laura's choirs I would thoroughly recommend it!
Rosie
'Singing has changed my life in many ways, when I sing the world can wait'
Nataliegh