Chapter Singers
Photo taken as part of a "get together with our friends from the Marlborough Community Choir – with their tutor Vanessa laffaye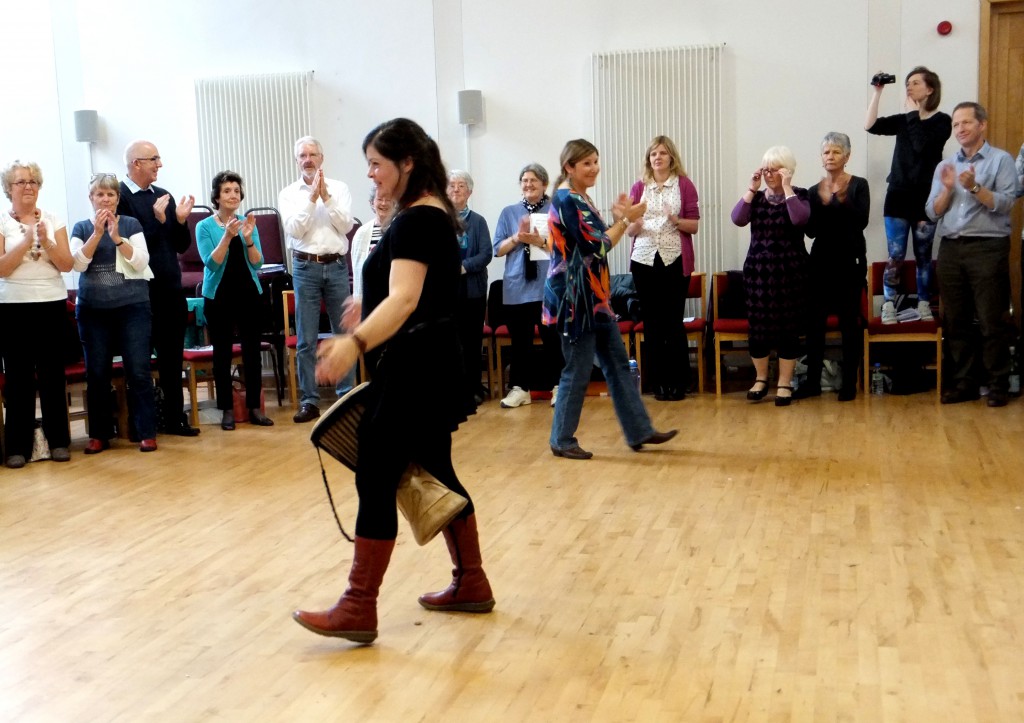 We meet Friday mornings 9.45 – 11.45 upstairs at Chapter Arts Centre – in the SWAS room.  People pay termly for this group and in January 2016 the prices will change.
For a 12 week term it is £80 full fee or £60 mid band concessions and £50 full concessions in line with the concession criteria for adult and lifelong learning.  (This works out per session as £6.65 full fee; £5 mid concessions and £4.15 full concessions each session, though is paid at the start of the term).
As this term will be a short term -(January 2016 – Easter)  just 10 weeks long –  this means that full fee will be £66.50, mid band £50 and full concessions £41.50
We have a short break in the middle where people can have a drink and chat in Chapter Café.
This group originally began as an adult education singing group over 10 years ago and now meet in Chapter Arts centre. The sessions are relaxed and fun with some beautiful and complex songs being learned and performed each year.
We sing a mixture of songs suggested by the group as well as songs from Africa – Eastern Europe as well as many rounds and other types of songs. The group – love to perform – although this is never compulsory. The group regularly "flashmob" in Chapter café – have taken part in several Chapter events including the "Soil" South African acapella group's visit, performed at the Wales Millennium Centre on the Glanfa, busked for various causes and some of the group also participate in the large London "Sing for Water" event each year.
This year they raised lots of money for "Sing for Water Cardiff" and sang in the event alongside 700 singers from all over Wales and the West Country https://www.facebook.com/singforwatercardiff
The money was raised with some amazing and fun events created by the choir members…a cooking demo – a guided walk – a photo competition – a pub quiz – busking as well as many individual acts of fund raising.
Testimonials from the group…..
"I've been coming to Laura's sessions for about 6 years.  I love the focus on enjoying singing together, and expressing ourselves in a relaxed way, rather than trying to produce something perfect. I love that we sing a wide variety of different kinds of music, from different parts of the world. I also love the inclusivity of the choir, where everyone is welcomed regardless of our ability or disabilities.  I think we surprise ourselves sometimes by what we are able to do with Laura's help.  I get a great feeling of well-being from the sessions, and I feel part of a supportive, fun group of people.  It's increased my appreciation of music and improved my singing, but best of all it brightens my life."
Rosemary R
"What I would like to add is : I think you would be surprised to know how often, when we choir people get together, we talk about how lucky we are to have you as our choir leader.  You are an exceptionally talented teacher, warm and endlessly patient. We learn in the most relaxed and friendly atmosphere possible and your classes are always great fun.  Thank you."
Jean
"The choir is a friendly place where you can forget your troubles for a couple of hours and really enjoy yourself with friends of like mind.  Its great."
Val
"Joining Laura's singing sessions at Chapter last year enabled me to re-discover my voice in a sharing and supportive group. Being quite new to Cardiff, the sessions also provide a social environment to meet new people and form lasting friendships. Laura's style of teaching offers encouragement alongside challenge, just the right blend for an inclusive community choir."
Jane
"I joined the Chapter Singers, Cardiff, almost three years ago. Led by Laura Bradshaw, approximately 30 of us meet on a Friday morning for two hours. It's the highlight of my week. I hadn't sung in a choir since the 70's. From my first telephone conversation with Laura, I felt relaxed and assured of a welcome. Her leadership, people skills and musical prowess are exemplary and have led to her winning an award in 2015.  
Laura's repertoire of songs is incredible. The musical range includes Gospel, Folk, Traditional and Contemporary from Africa, Europe, the UK and Ireland. She sometimes accompanies us on guitar or drums, but mostly we sing a capella, usually in 4 or 5-part harmony.
As a group we are encouraged to sing in public and though there is no pressure to perform, we realise it helps, through rehearsal, to improve our singing. The choir's charity is Sing for Water, so alongside singing socially for sheer enjoyment and escapism, it's good to know we are contributing to a worthy cause. "
Monica M
The Choir at Chapter on Friday mornings, is a not-to-be-missed session. Our leader drives us relentlessly on with humour, but also with that iron will to get the best out of us. The choir members themselves are inspirational. They tackle the most intricate, tongue twisting songs with gusto, and those who find some songs difficult, have ample encouragement from those around them. They are the most friendly, happy group of people I have had the joy to be with.
Goff (alias Dad!)
I tried a number of community singing groups in the Cardiff area before I found Laura and the Chapter Singers and it was definitely worth the search!
Laura is not only an excellent teacher, she is also gifted in bringing diverse people together as a group while never losing sight of us as individuals; a rare combination of skills.
Thanks, Laura, for your hard work, commitment, and above all for the fun of singing with you and the Chapter Singers!
Erin Martin – retired Headteacher
There is the sound of voices singing, the laughter and happiness we share as a choir in Chapter that is just joyful to me and this is attained under the giving and open nature of Laura.
Lesley E