Sing for Water Cardiff
Photo thanks to Alison Mcgann

Over the past 5 years I have taken part in a really inspiring event in London called "Sing for Water" which has been part of the Thames Festival – set up by composer and Natural Voice practitioner Helen Chadwick http://helenchadwick.com/
There would usually be about 30 singers from My Cardiff/Bridgend and Barry groups who would be able to travel to be a part of this event but it always felt a bit sad to leave others behind.
Anyway – in September 2014 the stars must have been aligned in the correct configuration – as the steering group of 4 "Natural Voice" practitioners equally motivated to put on this type of event in Cardiff – was formed. The group consisted of Sue Lay http://www.cardiffsinging.info/Welcome.html Celia Webb http://www.singplicity.org/  Pauline Down http://www.paulinedown.com and myself.
Together we worked extremely busily on doing all the behind the scenes work that makes this type of event possible – I don't think we would have even started if we'd really realized what hours it would have actually entailed – though I'm very very glad that we persevered!
Around 100 singers from various groups I run in South Wales took part in the event. Even the most recent newcomer to the Betws Community choir – Peter – who we'd met through another Valley and Vale http://www.valleyandvalecommunityarts.co.uk/ project – the "My Turn" project – managed to attend and thouroughly enjoyed the event and was indeed moved to tears by the performance of folk singer Frankie Armstrong with her specially written song for the event.
There were around 40 choirs participating on the day – all who'd prepared meticulously with their tutors in the lead up to the event. They came from as far afield as Mid Wales – to the West of England!
It was truly amazing to hear the 700 strong choir in all it's full glorious harmonic sound singing all the beautiful songs so beautifully.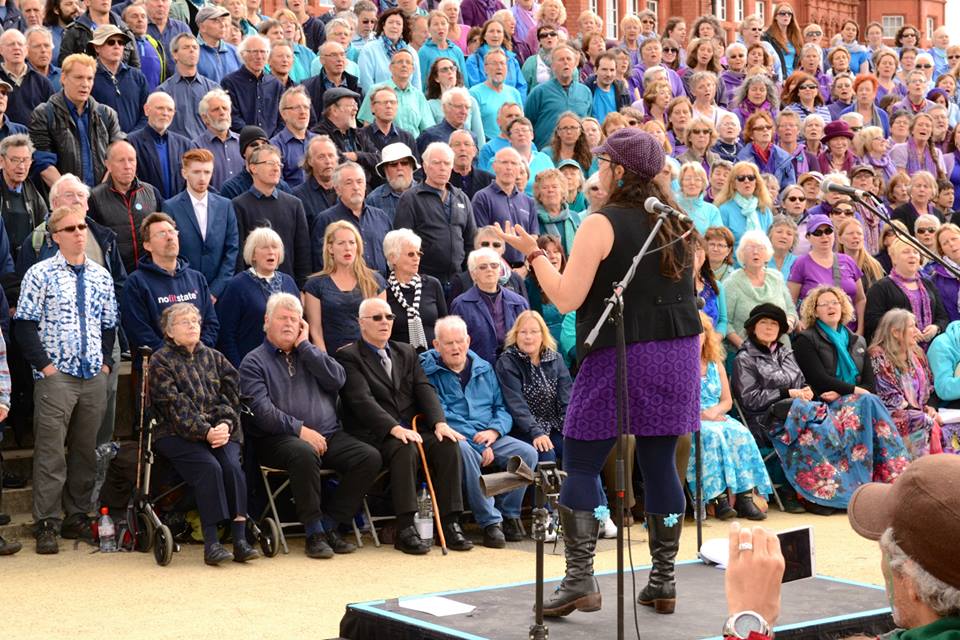 I had an email from Shaun – the Betws Community choir guitarist and singer – who thanked me for introducing him to the Sing for Water experience – "It sounded gorgeous and (I) loved every second of it!"
As part of the lead up to the event each choir had the responsibility of raising funds for the charity Wateraid. It was wonderful to see how each group did this – there were guided country walks – cooking demos – photography competitions – raffles – busking – concerts – tomato and plant sales – clothes swaps –quiz nights –  residential homes donated to choirs for their performances there – family and friends donated for the actual singing plus more ingenious ideas.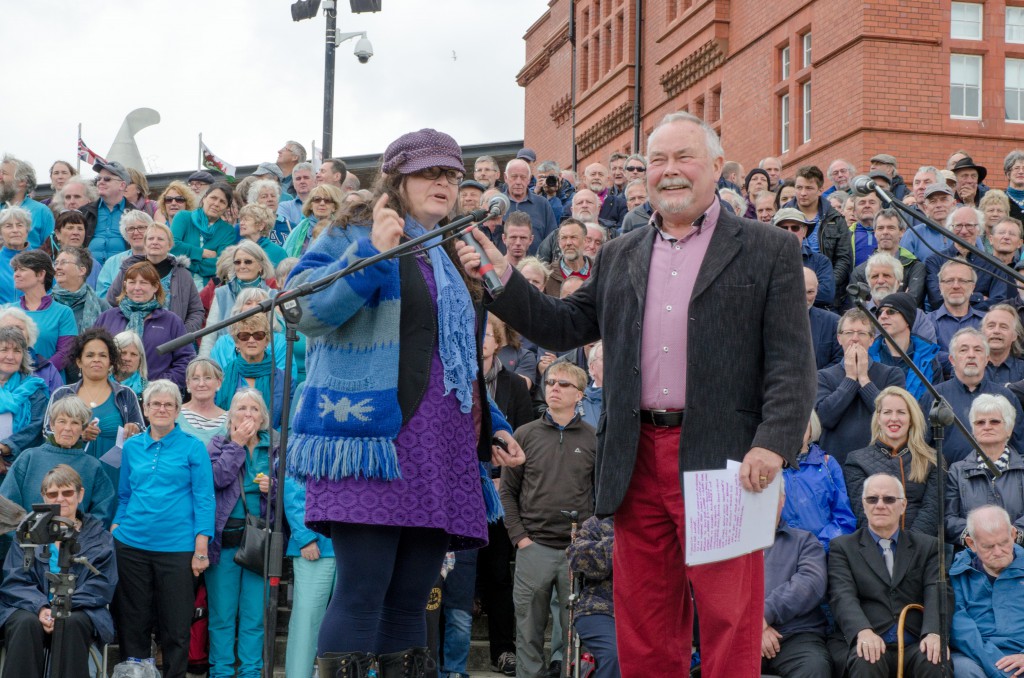 We were lucky enough to have the marvelous folk singer and presenter Frank Hennessey as MC for the event and he added the warmth needed on such a cold day as well as humanity relating to what the charity was all about.
The other performers were Lynne Denman and Stacey Blythe of Ffynnon http://www.ffynnon.com/  singing beautiful songs in Welsh.
Also the amazing Frankie Armstrong wrote a song especially for the occasion http://www.frankiearmstrong.com/
Another dimension to the day was the busking sets around the bay. There were around 25 different choirs and groups performing short sets around the bay and it was a total joy to walk around and hear 1 group of great singers after another – all totally unique from each other – mainly "Natural Voice" choirs http://www.naturalvoice.net/
All in all – despite a few hitches – including the cold (though at least it didn't rain) the event was a huge success
The event has raised over £36000
Tracy Pallant and Amy Peckham of Valley and Vale Community Arts are in the process of making a film showing some of the 41 choirs in their preparation for the event as well as during their busking sets
Watch this space for the next Sing for Water Cardiff – there will be another – we just haven't decided whether to make it every year or every 2 years yet.
For extra photos and videos of the event see the fbk page  https://www.facebook.com/singforwatercardiff