Work place Choirs
Spain, Ethiopa and YMCA Staff Housing Choir
Throughout my working life I've run several work based choirs – the first of which was a choir for the teachers at the school I taught at in Granada Spain In 2003. The second was to help to set up the Gemini Choir in Ethiopia alongside the musician and composer Tewolde Girmay for the Ethiopian organization the Gemini Trust of Addis Ababa. Singing together in any setting creates a greater connectedness and equality and also has many other benefits to both physical and mental wellbeing. The "Gemini Choir" was a project set up by Tracy Pallant – film worker for Valley and vale Community Arts.
Staff Housing YMCA Choir
I have been running a choir for YMCA Housing staff in Cardiff for 2 years now. The staff are encouraged to take part in various "wellbeing" classes each week and there are around 15 regulars who choose to come to the choir. It takes place for an hour a week right in the middle of the week. The staff have enjoyed being a part of the choir both for the break and fun it provides in the working week but also in the aspects of getting to know each other – feeling the "buzz" of singing for hours afterwards and motivation for work.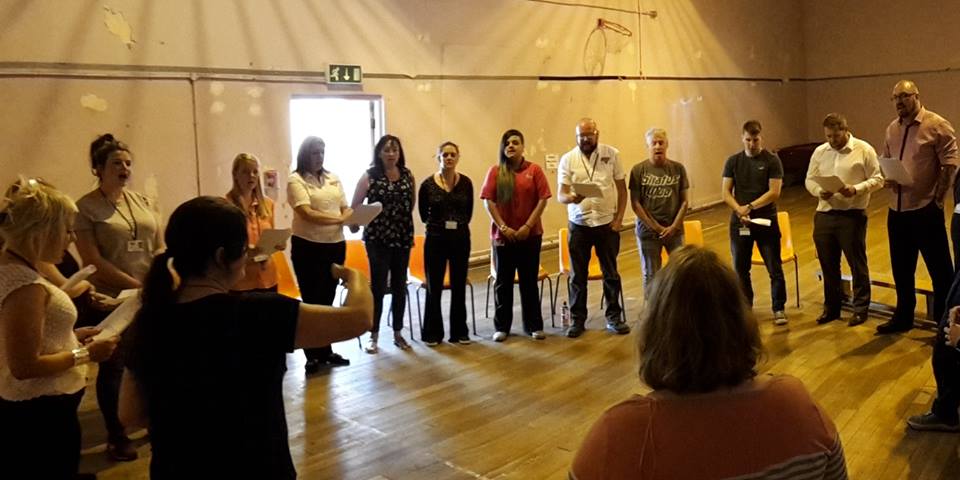 They have performed at various residential homes as well as at staff parties and also at the University music department Christmas concert. YMCA choir at 2.09mins. Most recent was at the YMCA theatre within a community cabaret show – where we performed 4 songs.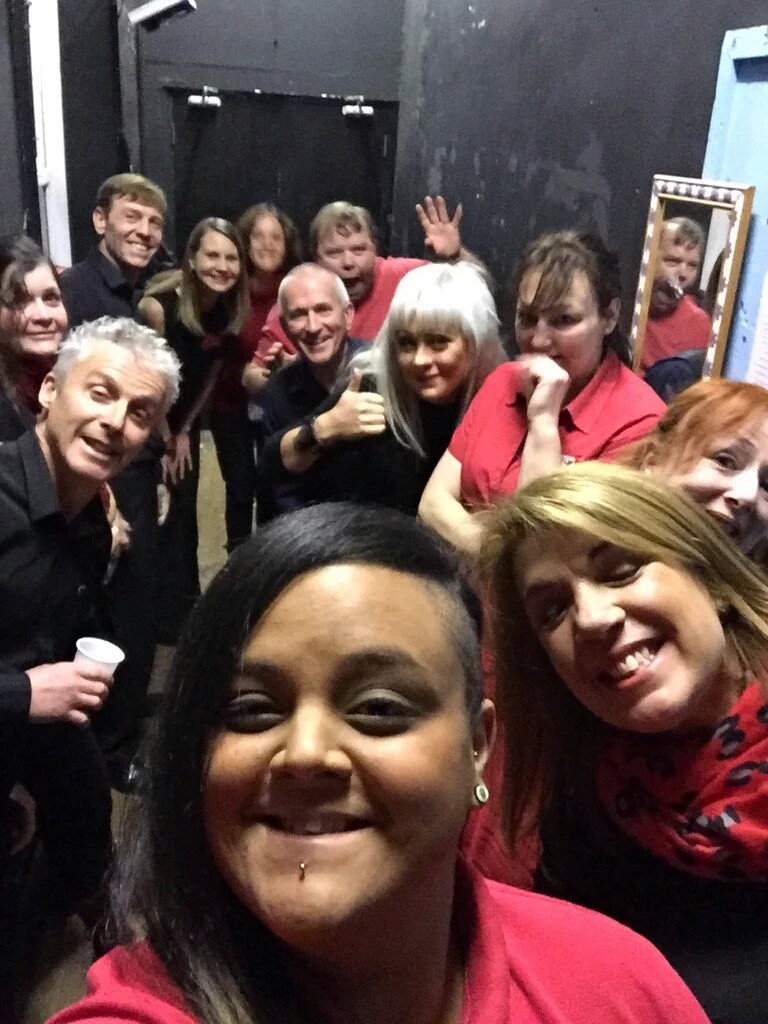 Just before our performance! Selfie + us taken by PJ!
https://www.youtube.com/watch?v=OU5MzLmE5ws
https://www.youtube.com/watch?v=klPA2a6oknw
 https://www.youtube.com/watch?v=w-8re_4jR8k
Singing Lean on Me at Wateraid concert 2014  https://www.youtube.com/watch?v=pnm-rsttcVg
The organization (Cardiff YMCA Housing) have recently won a Gold Investors in People Award
http://www.cardiffymcaha.co.uk/
Here are some of the comments choir members made on a recent wellbeing evaluation…..
"This was the first time I went. I really enjoyed it which surprised me. It made me feel less stressed and I think I smiled for the entire hour. Very relaxing – I will now become a regular member"
"I have a lot more confidence, I can stand up and read/sing in front of an audience. It lifts my feelings and feel good factor"
"….work – life balance, learnt how to breathe properly – I can sing now – a new interest for life"
"After choir on a Wednesday I feel really happy and full of the joys of spring…I can honestly say it is one of the most enjoyments in my life, in and outside of work"
"Makes me feel calmer and slows me down a bit"
"Gives me a new lease of life, more energy, invigorated and a lot happier. I get very frustrated when not able to attend. I feel better connected to my colleagues across the department and I feel spiritually and mentally more positive after"
"It hasn't had this much of an impact outside of work as I was already in a choir. But afterwards I feel less pain/ aches in my shoulder and neck and back as a result of standing better and stretching. I also feel a greater sense of connection with my colleagues, more focused when I go back to work and more relaxed and energized.
"It gives a confidence boost"
"Makes me feel calmer and slows me down a bit"
"Increased sense of wellbeing and being invested in at work has a positive impact on the whole of life"
The YMCA staff choir have had an array of teachers covering for me when I've not been able to make it and I think they relish the difference and freshness this brings.  Other tutors include:- Natural Voice Practitioners Pauline Down, Frankie Armstrong, Amy Jones, Singer/ dancer Mary Anne Roberts and drummer Ron Charles Ebuola Macauley to do drumming sessions. All have been highly praised by the choir.