Performing
Contact me at – laura.music@virgin.net – if you'd like to hire any of the groups I perform with for an event you are planning…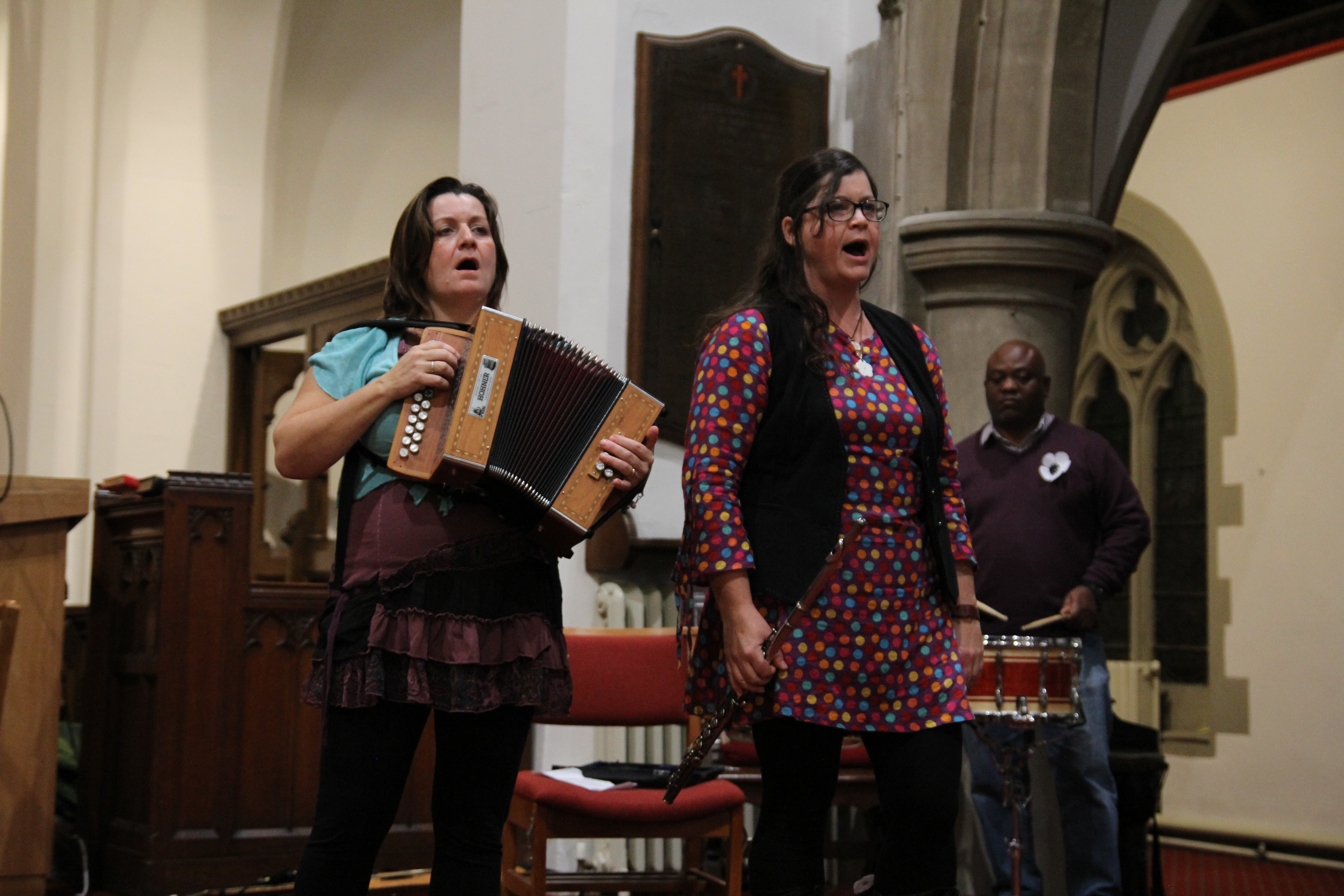 "Sisters on the Shore" Alongside sister Ruth perform a wide and varied set of mainly our own songs using acoustic instruments (flute/ accordion/ soprano sax/ guitar/ vocal harmonies) and our voices in a style blending folk with light jazz……….
(Also seen in the photo is Ronald Ebuola Macauley who we occasionally perform with) Thanks to Jon Ratigan for the photo taken at the War Child Peace concert – November 2015
"Champagne Charlie" written by Ruth – cello and additional vocals by Jimmy Ottley
"Bread and Roses" acapella trio including myself, Frankie Armstrong and Pauline Down initially formed for international women's day in 2014 and have gone on performing together regularly ever since.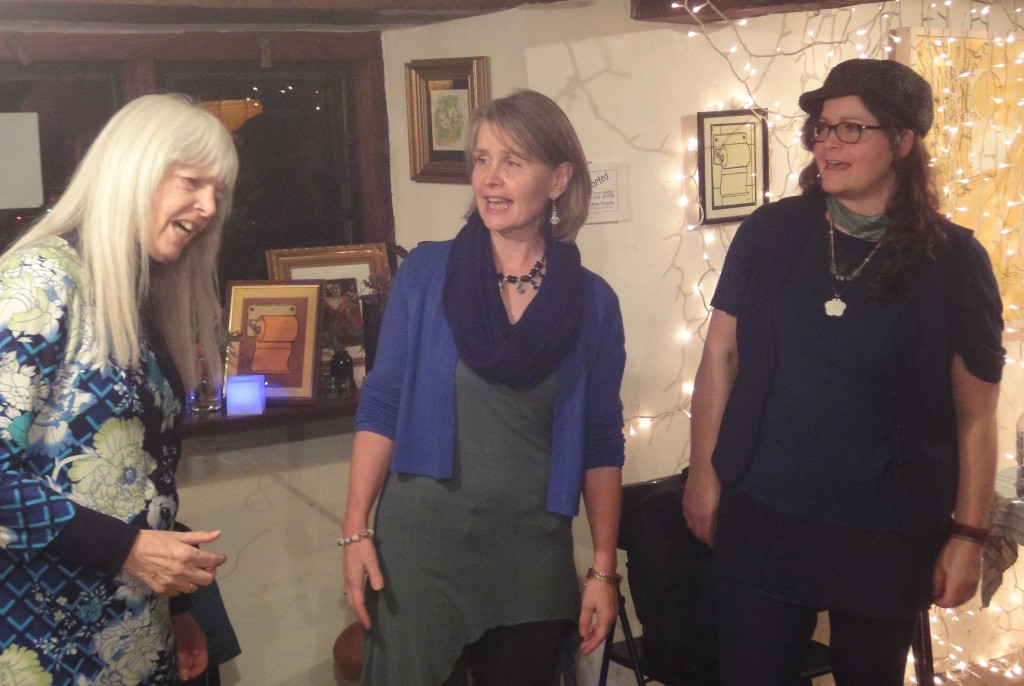 Thanks to Darien Pritchard for the photo – taken at the Garden Cafe, Lydbrook 2015
The Variegated Women comprising of myself, sister Ruth, Frankie Armstrong, Pauline Down and Sarah Harman came to fruition in 2014….
Variegated Women is a feisty, folky, five-piece female voice and instrumental ensemble, with a passion for singing to promote change. Between us, we have several centuries' worth of singing experience and songs. We are all professional singers in our own right who love the opportunity to come together to explore harmonies created in these islands and from around the world. The emphasis is on women's songs and those speaking for peace and social justice, both old and new. We can ring the changes from one voice to five – some of our repertoire is acapella and some with instrumentation that includes guitar, saxophone, flute, accordion, whistle and drums. This means we can create a performance of great richness and variety, exploring different genres and textures. Our hope is to communicate power, tenderness and fun involving the audience both as listeners and sometime joiners-in.

We are due to perform at the Bristol Folk House for International women's day 2016.
"Trois Femmes" 2010 – 2011 Alongside Orflaith McConville and Caroline Pringle.
http://www.youtube.com/watch?v=hmp7GzhrsMI&feature=related

http://www.youtube.com/watch?v=aDotY9FgNoI&feature=related

In another life – BC (Before child) I performed in many mainly instrumental groups…..
"Shake the Bottle" 1992 – 94 alongside partner Jon Ratigan (guitar), Lynne Plowman – composer and flautist, Chris Ap Thomas – percussion.
The "Andalucian Dogs" 95 – 96 Alongside partner Jon, Ron Ebuola Macauley (percussion), Chloe Cullingworth (oboe and keys), Phil Moxham (Bass), Me (flute/vocals)
Here playing "Solero" created by myself and Jon – performed at the Clwb Ifor Bach January '96
"Soldad" 1998 – 2002 comprising of…myself (Lead vocals/flute/keys,guitar),  Jon Ratigan (guitar, Jim Marshal (guitar), Chloe Cullingworth (oboe and keys), Paula Williams (bass and backing vocals), Ron Ebuola Macauley (Percussion)
Here playing "The Sleep of Reason" written by Jon – recorded at a gig at Rajah's.
 "Thistle Dance" a flute duo with fellow flautist Lynne Plowman – formed while studying at RWCMD – we used to busk a lot and got fed up with the music blowing away all the time so began improvising together! We performed at various informal events but were also asked by Gordy Ryan to perform at his and Zoe's wedding in Snowdonia – and were then asked to perform with the Olatunje drums of Passion at Chapter arts centre. They even asked us to go on the rest of their UK tour with them but we turned them down!!! 🙁 – well I suppose we had to turn up for our "finals"!
"The Richmond Players" Formed with fellow students Stacey Blythe (Harpsichord and Baroque recorder), Anthony Lamb (lute and Archlute), Claudine Cassidy (Baroque cello), myself on Baroque flute playing baroque music on authentic instruments at various functions and events including Tredegar House Christmas events….
"Misery" Cardiff Indie band – playing flute and saxophone.