Porthkerry Singers, Barry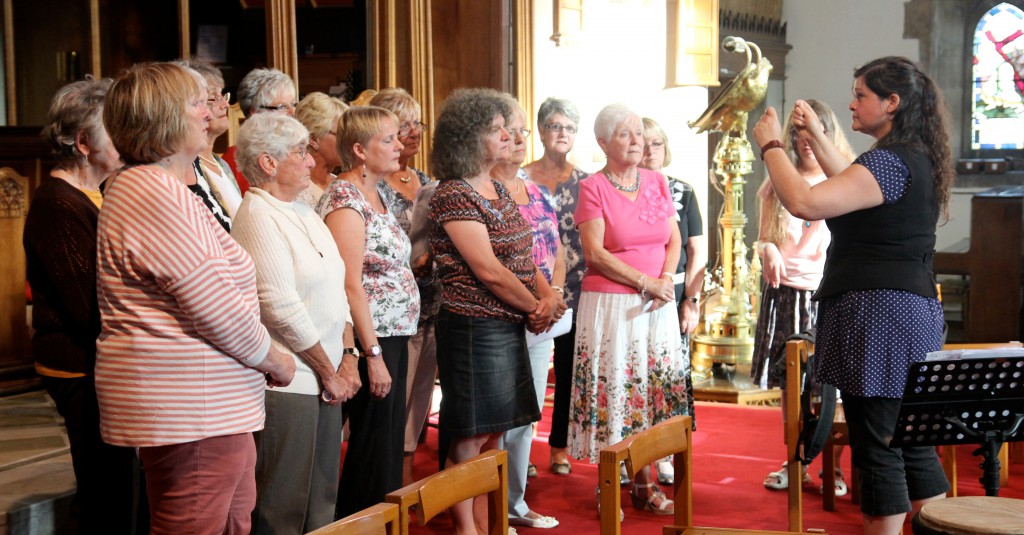 Photo thanks to Jon Ratigan – our summer concert to help raise funds for the local guides hall.
We meet Friday afternoons 1.30 – 3pm during term time at the St Francis Millennium Centre,
Park Road, Barry CF626NX (Very close to the car entrance to Porthkerry park)
There is a drop in fee of £6 per session, alternately you can pay termly – which works out as £4.50 per session  – £45 for the next term which is an unusually short 10 week term – making a saving of £15 (the terms do vary following the school terms)

Start the weekend with an uplifting and fun sing in a friendly non- judgmental group. 
All welcome, whatever your background, or faith/non faith – no audition – no need to read music
(we don't use music scores)

We sing a mix of songs from pop to folk and African songs –  all in 3 and 4 part harmony.

We welcome both men and women. All ages from 18 – 88 (and counting)
Singing within a group is now medically proven to be good for us both physically and mentally on many different levels. This group gives us the opportunity to "sing our hearts out" whilst at the same time making beautiful harmonious sounds and meeting people.

We all deserve the chance to sing, even if we are fearful that our voices are not good enough or we are worried about being judged.
The added bonus of attending a group like this is that the more we sing the more our singing will improve when done in a relaxed and "listening" manner.

This group has been running for 5 years and has participated in many great events.
Photo curtesy of Marlborough Community Choir member taken at a "get together" with our fiends,  the Marlborough Community choir (who are lead by Vanessa Laffaye)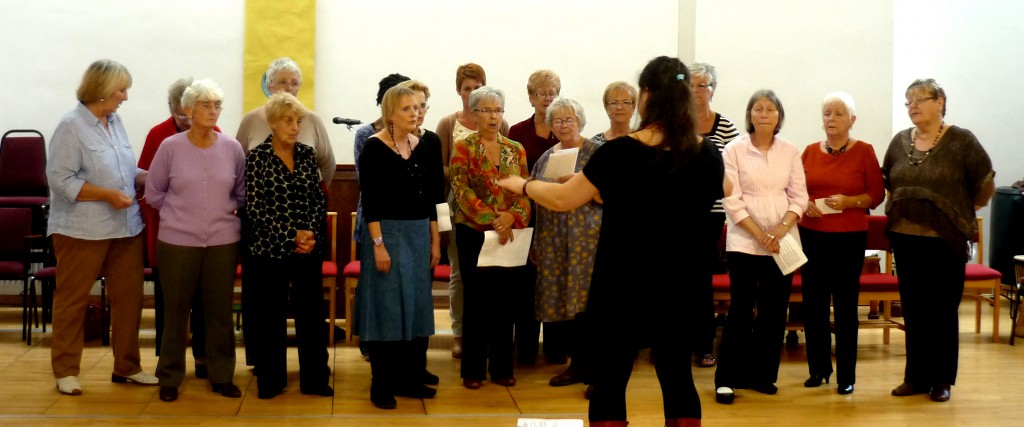 The group singing "Coventry Carol" December 2013
Some comments from people in the group……

"Its so good to be a member of Porthkerry Community choir on many levels. Perfect therapy during and after my treatment for cancer. Perfect for confidence building. Perfect for making wonderful friendships. A further bonus — Its  a lot of fun AND our singing, led by Laura  is very good too!!"

Gail Cureton. PCC.

"What a delightful time we spend on Fridays. It is the most rewarding experience in a choir I have ever experienced .      ,

Thanks to Laura's professional and natural gift with the singers ,we all feel energized and look forward  to our group, when we heartily sing with joy.

Thanks for sharing your gift "

Gwenmai

"I love Friday afternoons and love every minute. I always wanted to sing but thought that I couldn't but you give me confidence but it's not only the singing it's the company and the social side as well and the icing on the cake was singing for Wateraid in Cardiff bay in May and I am looking forward to the next time."

Lynne